What are the differences between renting and buying a server?
As businesses expand and grow, companies often face the question of whether it is better to rent or buy a server to meet their computing needs. A server is a critical component of any modern business, as it stores and manages data and enables communication between employees, customers, and partners. However, both renting and buying a server have their pros and cons. It is important to understand the differences between these two options to make an informed decision.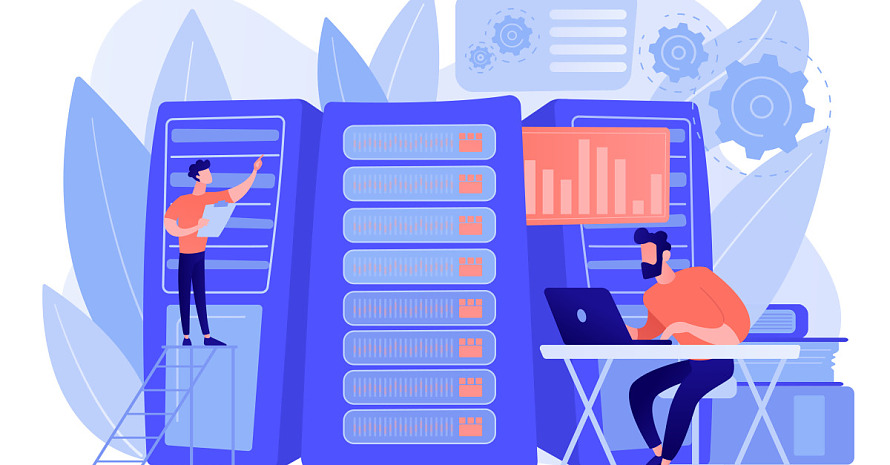 What is the difference?
The main difference between colocation and dedicated servers is that for colocation, you rent a secure space in a data center with power, cooling, and connectivity, while retaining full ownership and full control over your equipment, including physical maintenance of the equipment.
On the other hand, with a dedicated server service, you rent a server and hardware from a hosting provider. In this case, the provider is not only responsible for the underlying infrastructure, but is also responsible for any hardware repairs and providing customers with an affordable basic operating system installation.
Cost
Buying things is usually more cost-effective in the long run than renting them. But there are times when finances make a purchase a bit out of reach. If you think you'll need the power that a dedicated server can offer, but can't afford to buy one just yet, you can always rent one for a few months before making a big purchase.
Most often, the choice in favor of renting is related to the financial side of the issue. That is, it is about using the budget more wisely at the initial stage. Also, at any time, you can increase the amount of both power and memory, and if necessary, rent a more powerful server, depending on your needs, which allows you to save money by paying only for the resources you need.
Customization and control
Another key difference between renting and purchasing a server is the level of customization and control a business has over its server. When renting a server, a business usually has limited control over the hardware and software configuration. The hosting provider manages the server and keeps it up to date and secure. While this can be beneficial for businesses that lack technical knowledge, it may not be suitable for those with specific computing needs.
Buying a server, on the other hand, gives a business full control over the hardware and software configuration. This means that a business can customize the server to meet its specific computing needs and have full control over data and security measures. However, owning a server also requires technical knowledge to effectively manage and maintain the server.
Scalability
Scalability is another important factor to consider when deciding between renting and buying a server. Renting a server usually allows companies to increase or decrease computing resources according to their needs. Hosting providers offer a range of plans with different computing resources, and companies can upgrade or change them as needed.
Buying a server can limit scalability, as companies have to invest in hardware up front. Businesses may need to purchase additional servers or upgrade their existing hardware as their computing needs grow, which can be costly.
Reliability
Reliability is another important factor when deciding between renting and buying a server. Hosting providers typically offer high levels of uptime and availability because they take redundancy measures to ensure that servers will remain online. Hosting providers also offer support services, which means that businesses can quickly resolve any issues that may arise. On the other hand, buying a server requires a business to manage and maintain the hardware itself.
In addition to these, there are other reasons why both options are a good choice. Some of these reasons include:
Location. If you choose either option, your servers will be located far away from your actual office. This makes your data much more secure against data theft and accidents, as we have a high degree of protection against all possible contingencies.
Server. Both the dedicated server rental and colocation services mean that you have your own dedicated server, regardless of whether you own or rent it.
Scalability. If you need a large server capacity, both options allow you to scale up. Renting a server allows you to increase the amount of both power and memory, and if necessary, rent a more powerful server depending on your needs, and with colocation, you can purchase more servers to be located in a data center.
So, when it comes to servers, businesses have two main options: buying or renting. Buying a server can be a great option for businesses that plan to use the server for a long time, and renting a server can be a great option for businesses that only need the server for a short period of time. So, it's safe to say that there is no one-size-fits-all with these options. Ultimately, the best option for your business will depend on your needs and budget. By carefully weighing your options, you can make the best decision for your business.
Adamant provides both Collocation and Dedicated services. We offer the most favorable conditions on the market and an unrivaled team of specialists. By renting or hosting a server with us, you will receive round-the-clock technical support, uninterrupted operation, reliable protection, and high-quality equipment. Trust us and get more time and opportunities to focus on developing and promoting your business.