Dedicated server — complete freedom of action
If you are faced with the problem of storing large amounts of data, or you do not have enough performance, reliability of available resources for the full functioning of the project, or you are thinking about buying a server, but consider it economically unprofitable, then we recommend that you pay attention to the dedicated service from Adamant.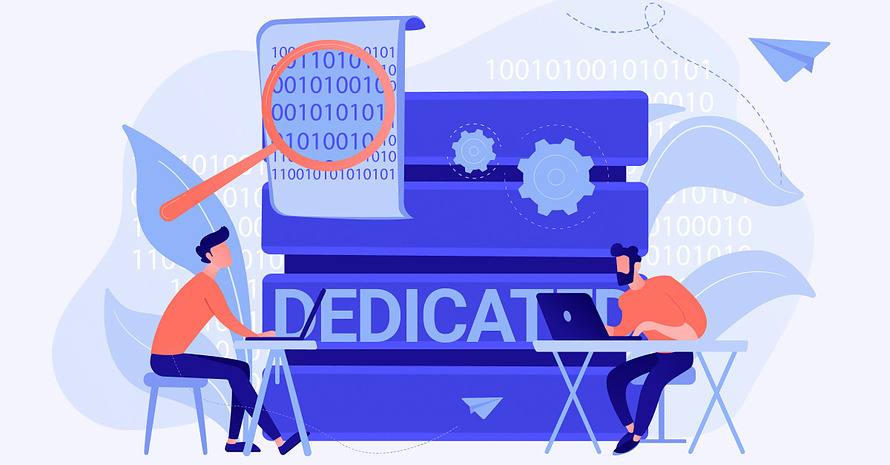 Dedicated is a service of renting a physical dedicated server in the data center of a hosting company. This is a great alternative in case of the needs stated earlier. You will be able to configure the server for your own needs and not worry about providing the necessary conditions for uninterrupted operation of the equipment, professional technical support and reliable security system.
What is a dedicated server?
When choosing a dedicated server service, you get access, of course, only for the rental period, your own dedicated server, ready to work. You have full access to all resources, you can configure the dedicated server for your own needs.
The rented server is placed in a separate cabinet of the data center and ensures its uninterrupted operation. Technical staff maintain the necessary ecosystem in the data center, provide uninterrupted power supply and a reliable security system. If the user detects server malfunctions, you need to contact technical support and report that there are malfunctions, in which case we will replace the server as soon as possible. If a configuration change is required during the lease, this service is also provided upon request and subject to technical capabilities, or we can always offer another server with the necessary technical parameters.
It is worth noting that server rental involves its independent configuration and administration, so it is suitable for users with similar skills or companies with a team of system administrators. If you do not have such an opportunity, Adamant technical specialists can do it for you (paid separately).
Dedicated server vs VPS — what to choose?
Users often face the problem of choosing between dedicated server and VPS. Therefore, let's see what is the difference between these services.
Firstly, the difference is in the cost — VPS is much cheaper, because by choosing VPS, you rent only part of the server. That is, the provider having one server, divided into several separate virtual machines, can rent them simultaneously to different users. Instead, the dedicated service provides rental of a full-fledged server, you will not need to share space and capacity with «neighbors», the server will be only under your control. Also, a special difference is that by renting a server, you have more opportunities to customize the characteristics that are not available for the VPS service.
So, if you have a large project that requires a lot of power of digital machines, we recommend choosing a dedicated server. If you need to host a small project and can't afford to rent a whole server, or you need to rent for a short period of time — in this case, we recommend you to pay attention to the VPS service from Adamant.
Advantages of a dedicated physical server
Full control over the server, the capacity of which belongs only to you and your resources;
Wide possibilities of self-management of the server — the choice of the operating system (OS), software and configuration of all configurations for the needs of your product;
Ability to independently change the distribution of CPU, RAM and storage capacity;
Multifunctionality — You can use a dedicated server to solve various tasks, you can create several virtual servers, cloud server or hosting, create your own corporate infrastructure in the online space;
Reliable equipment security system.
Who needs dedicated?
As a rule, dedicated (also called «dedication») is used for large websites with high traffic, business applications, large content flow, online games, etc.
We recommend choosing the dedicated server service if you want to host on the server:
Internet project
You can buy a dedicated server for any web product: a large online store with high traffic, news site or portal, online game, etc. It can also be for building the internal corporate infrastructure of the company. Using dedicated, you can ensure fast and uninterrupted operation of your Internet resource.
Applications
Deploy your application by renting a server in the Adamant data center to create a flexible modern environment for development and testing. Gain control over every aspect.
Game server
Games like Minecraft, FiveM, SAMP and Valheim will run faster when using a dedicated server. Dedicated resources, designed for one user, allow you to fill the memory with many files. By renting a dedicated server you can place your own closed playground, set up your own rules and enjoy the game with your friends.
Server infrastructure
Renting a «dedication» allows you to create a complex infrastructure and better cope with high traffic, peak loads, for example, during special offers or promotions.
Rent a dedicated server in Adamant Data Center
Adamant company will provide stable operation and reliable storage of your data in its own data center, which is equipped with:
security and video surveillance system, video monitoring is carried out for the adjacent territory, courtyard and premises of the Data Center, two-level security system of the Data Center is provided by its own round-the-clock security service in 24/7 mode and contractual relations with the Security Police;
fire protection, the data center modules are equipped with an automatic gas fire extinguishing system filled with inert gas that is safe for equipment, the fire extinguishing system is monitored by the company's round-the-clock security and the city's SES unit;
air conditioning system, which is carried out according to the N+1 scheme. The modules provide a temperature of 21°C ± 3°C at a relative humidity of up to 55%;
multi-level power supply — in case of failure, all machines will continue to work;
high level of reliability that meets Tier 3 standards, which guarantees 99.98% uptime;
communication channel capacity of 160 Gb/s;
fast replacement of failed nodes;
powerful server equipment from leading brands HP and Intel;
high-quality ssd- and hdd-disks;
technical support from highly qualified specialists 24/7.
Choosing the dedicated service from Adamant, you can choose the best offer for yourself in one of the tariffs. Alternatively, contact our specialists to discuss the configuration of equipment at an individual rate.